Product Name:
PKCz-pS262+Y263
| | | | | |
| --- | --- | --- | --- | --- |
| Size: | 25 µg |        | Price: | 89.00 |
| | |        | $US | |
Target Full Name:
Protein-serine kinase C zeta
Target Alias:
Kinase PKC-zeta; KPCZ; NPKC-zeta; PKC2; PKC-zeta; PKMzeta; PRKCZ; Protein kinase C zeta; Protein kinase M zeta; CCDS37.1; Q05513; ENSG00000067606
Product Type Specific:
Protein kinase phosphosite-specific antibody
Antibody Code:
PK774
Antibody Target Type:
Phosphosite-specific
Antibody Phosphosite:
S262+Y263
Protein UniProt:
Q05513
Protein SigNET:
Q05513
Antibody Type:
Polyclonal
Antibody Host Species:
Rabbit
Antibody Immunogen Source:
Human PKCz (PRKCZ) sequence peptide Cat. No.: PE-04ARQ99
Antibody Immunogen Sequence:
IGRG(pS)(pY)AKVL(bA)C
Antibody Immunogen Description:
Corresponds to amino acid residues I258 to L267; In the kinase catalytic subdomain I region
Production Method:
The immunizing peptide was produced by solid phase synthesis on a multipep peptide synthesizer and purified by reverse-phase hplc chromatography. Purity was assessed by analytical hplc and the amino acid sequence confirmed by mass spectrometry analysis. This peptide was coupled to KLH prior to immunization into rabbits. New Zealand White rabbits were subcutaneously injected with KLH-coupled immunizing peptide every 4 weeks for 4 months. The sera from these animals was applied onto an agarose column to which the immunogen peptide was thio-linked. Antibody was eluted from the column with 0.1 M glycine, pH 2.5. Subsequently, the antibody solution was neutralized to pH 7.0 with saturated Tris.This antibody was also subject to negative purification over phosphotyrosine-agarose.
Antibody Modification:
Unconjugated. Contact KInexus if you are interest in having the antibody biotinylated or coupled with fluorescent dyes.
Antibody Concentration:
0.75 mg/ml
Storage Buffer:
Phosphate buffered saline pH 7.4, 0.05% Thimerasol
Storage Conditions:
For long term storage, keep frozen at -40°C or lower. Stock solution can be kept at +4°C for more than 3 months. Avoid repeated freeze-thaw cycles.
Product Use:
Western blotting | Antibody microarray
Antibody Dilution Recommended:
2 µg/ml for immunoblotting
Antibody Potency:
Strong immunoreactivity with immunogen peptide on dot blots.
Antibody Species Reactivity:
Human
Antibody Positive Control:
The observed molecular mass of the processed target protein on SDS-PAGE gels is reported to be around 73-78 kDa.
Scientific Background:
PKCz (PRKCZ, PKC-zeta) is a member of the AGC group of protein-serine/threonine kinase in the PKC family, and Iota subfamily. It is moderate to highly expressed in most tested human tissues. PI 3,4,5-trisphosphate activates PKCz. Phosphorylation at Y356, T410 and T560 increases PKCz kinase activity. Phosphorylation of Y356 induces interaction with 14-3-3 to increase PKCz kinase activity and facilitate its complex formation with Raf1 to activate it. Phosphorylation of S113, S148, T179, S186, S217, S218, S262, and S520 also induces interaction with 14-3-3 beta and Raf1. PKCz is found in both particulate and soluble fractions and is not activated by phorbol ester. However, overexpression of PKCz and subsequent phorbol ester treatment abolished phorbol ester-induced reduction in cell proliferation. It functions in the phosphatidylinositol 3-kinase (PI3K)and p70 S6K pathways and mitogen-activated protein (MAP) kinase cascade, and is involved in NF-kappa-B activation, mitogenic signalling, cell proliferation, cell polarity, inflammatory response and maintenance of long-term potentiation (LTP). PKCz has been linked with the development of colorectal adenocarcinomas.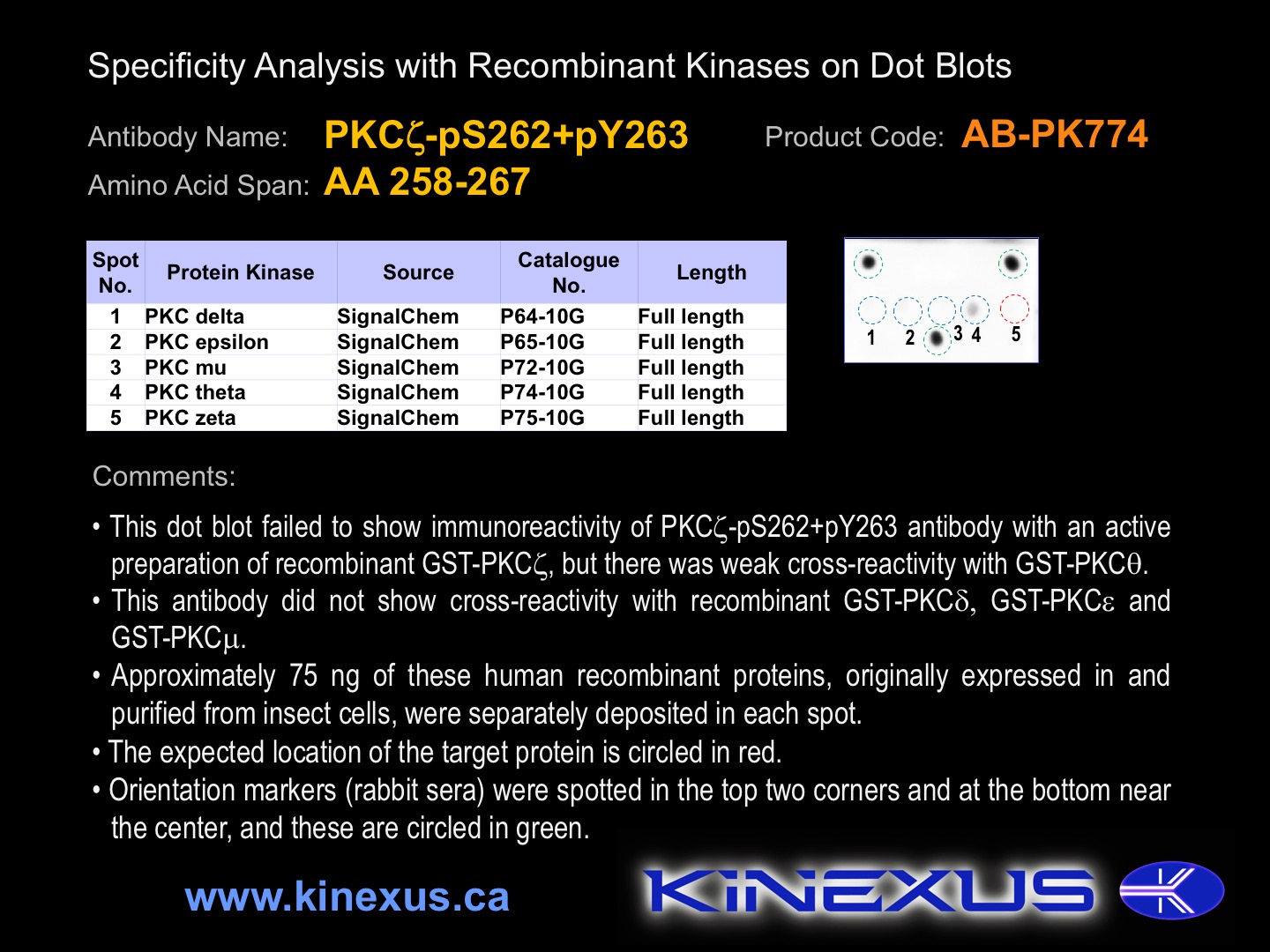 Figure 1. Dot blotting PKCz-pS262+pY263 antibody with recombinant purified proteins.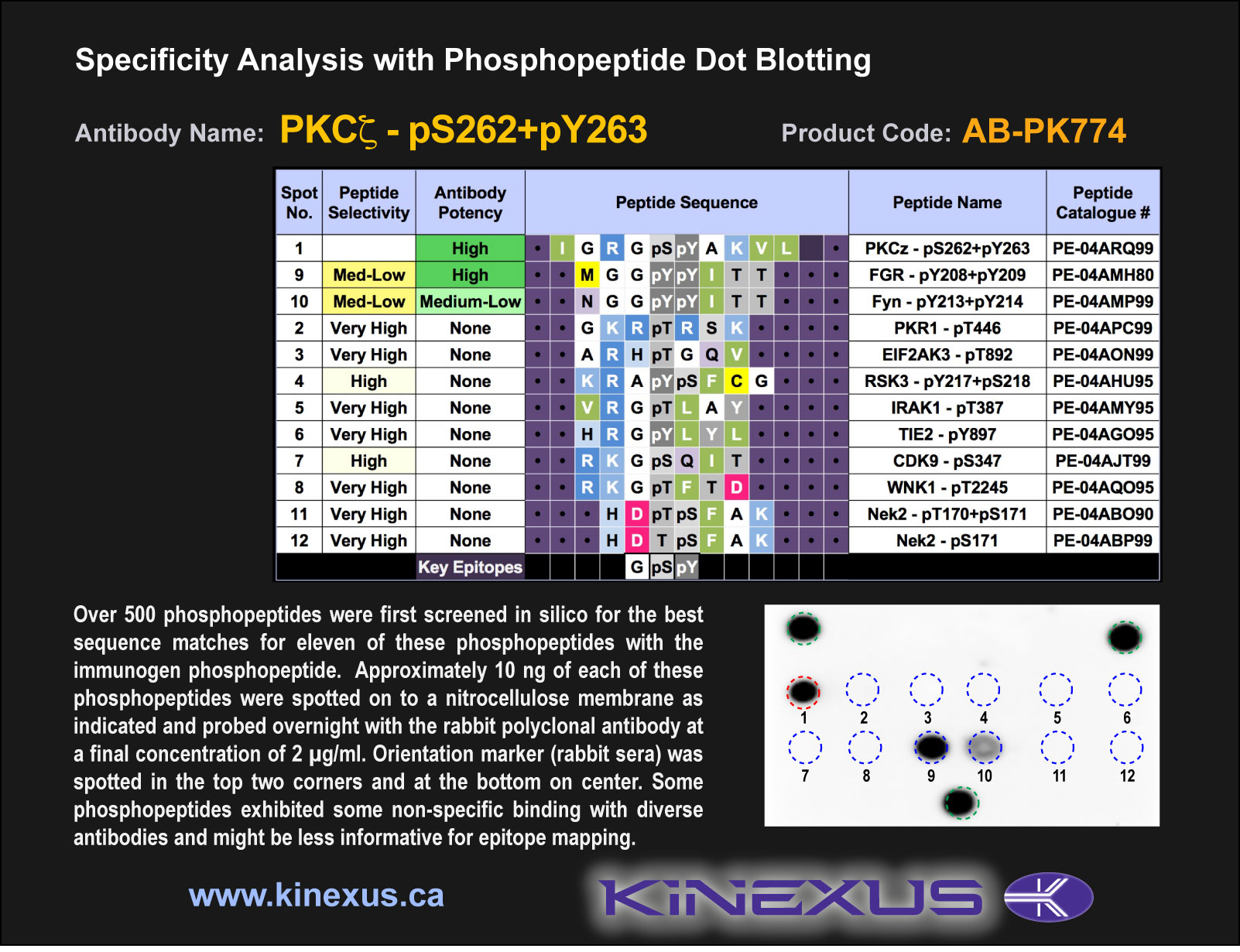 Figure 2. Epitope mapping of PKCz-pS262+pY263 antibody with similar phosphopeptides on dot blots.