Product Name:
PDGFRa-pY762
| | | | | |
| --- | --- | --- | --- | --- |
| Size: | 25 µg |        | Price: | 89.00 |
| | |        | $US | |
Target Full Name:
Platelet-derived growth factor receptor kinase alpha
Target Alias:
AI115593; Alpha platelet-derived growth factor receptor precursor; CD140a; Kinase PDGFR-alpha; MGC74795; PDGFR2; PDGFRa; PDGFR-alpha; PDGF-R-alpha; PGFRA; Platelet-derived growth factor, alpha-receptor; Rhe-PDGFRA; RHEPDGFRA; CD140A; MGC74795; CCDS3495.1; ENSG00000134853
Product Type Specific:
Protein kinase phosphosite-specific antibody
Antibody Code:
PK758
Antibody Target Type:
Phosphosite-specific
Antibody Phosphosite:
Y762
Protein UniProt:
P16234
Protein SigNET:
P16234
Antibody Type:
Polyclonal
Antibody Host Species:
Rabbit
Antibody Immunogen Source:
Human PDGFRa sequence peptide Cat. No.: PE-04AKV95
Antibody Immunogen Sequence:
RSL(pY)DRP(bA)C
Antibody Immunogen Description:
Corresponds to amino acid residues R759 to P765; In the protein kinase catalytic domain near subdomain VI. This is the major in vivo phosphorylation sites in PDGFRa.
Production Method:
The immunizing peptide was produced by solid phase synthesis on a multipep peptide synthesizer and purified by reverse-phase hplc chromatography. Purity was assessed by analytical hplc and the amino acid sequence confirmed by mass spectrometry analysis. This peptide was coupled to KLH prior to immunization into rabbits. New Zealand White rabbits were subcutaneously injected with KLH-coupled immunizing peptide every 4 weeks for 4 months. The sera from these animals was applied onto an agarose column to which the immunogen peptide was thio-linked. Antibody was eluted from the column with 0.1 M glycine, pH 2.5. Subsequently, the antibody solution was neutralized to pH 7.0 with saturated Tris.This antibody was also subject to negative purification over phosphotyrosine-agarose.
Antibody Modification:
Unconjugated. Contact KInexus if you are interest in having the antibody biotinylated or coupled with fluorescent dyes.
Antibody Concentration:
0.5 mg/ml
Storage Buffer:
Phosphate buffered saline pH 7.4, 0.05% Thimerasol
Storage Conditions:
For long term storage, keep frozen at -40°C or lower. Stock solution can be kept at +4°C for more than 3 months. Avoid repeated freeze-thaw cycles.
Product Use:
Western blotting | Antibody microarray
Antibody Dilution Recommended:
2 µg/ml for immunoblotting
Antibody Potency:
Very strong immunoreactivity with immunogen peptide on dot blots.
Antibody Species Reactivity:
Human
Antibody Positive Control:
The observed molecular mass of the processed target protein on SDS-PAGE gels is reported to be around 115-135 kDa.
Scientific Background:
PDGFRA is a receptor protein-tyrosine kinase in the TK family and PDGFR group. It acts as a cell surface receptor for platelet-derived growth factors PDGFA, PDGFB, and PDGFC. This kinase is highly expressed and widely distributed in most tested human tissues. PDGFRA can mediate cell survival, proliferation, embryonic development, chemotaxis, development of the mucosal layer of the gastrointestinal tract, intestinal villi development, wound healing, and platelet activation. The response of PDGFRA depends on whether it homodimerizes or heterodimerizes with PDGFRB. The heterodimer will phosphorylate PLCG1, PTPN11, and PIK3R1. Protein interactions are induced with phosphorylation of Y572 and Y574 (with Src), Y720 and Y754 (with SHP2), Y731 and Y742 (with PIK3R1), Y762 (with CDK6 & CrkL), and Y988 and Y1018 (with PLCg1). Aberrant expression of PDGFRA has been linked to developmental abnormalities and has been implicated in multiple disease states in humans. Widespread expression of PDGFRa occurs in renal cell types involved in fibrotic and sclerosing processes. PDGFRA induces fibrosis in the repair phase of inflammatory bowel disease and may be involved in the active inflammatory phase. PDGFRA is a known oncoprotein (OP). Cancer-related mutations in human tumours point to a gain of function of the protein kinase. The active form of the protein kinase normally acts to promote tumour cell proliferation. PDGFRA has also been linked with the development of atypical chronic myelogenous leukemia, glioblastoma multiforme (GM), melanomas, lung neuroendocrine carcinomas and gastrointestinal stromal cancers. PDGFRA is a known oncoprotein (OP). Cancer-related mutations in human tumours point to a gain of function of the protein kinase. The active form of the protein kinase normally acts to promote tumour cell proliferation. PDGFRA is linked to Gastrointestinal Stromal tumours (GANT, GIST), which are soft tissue sarcomas growing from the stomach, intestines, or rectum. A constitutively active PDGFRA can be induced with a V561D, N659K, D842V, or D842Y, mutation, or with the deletion of 842-845, or deletion of 845-848.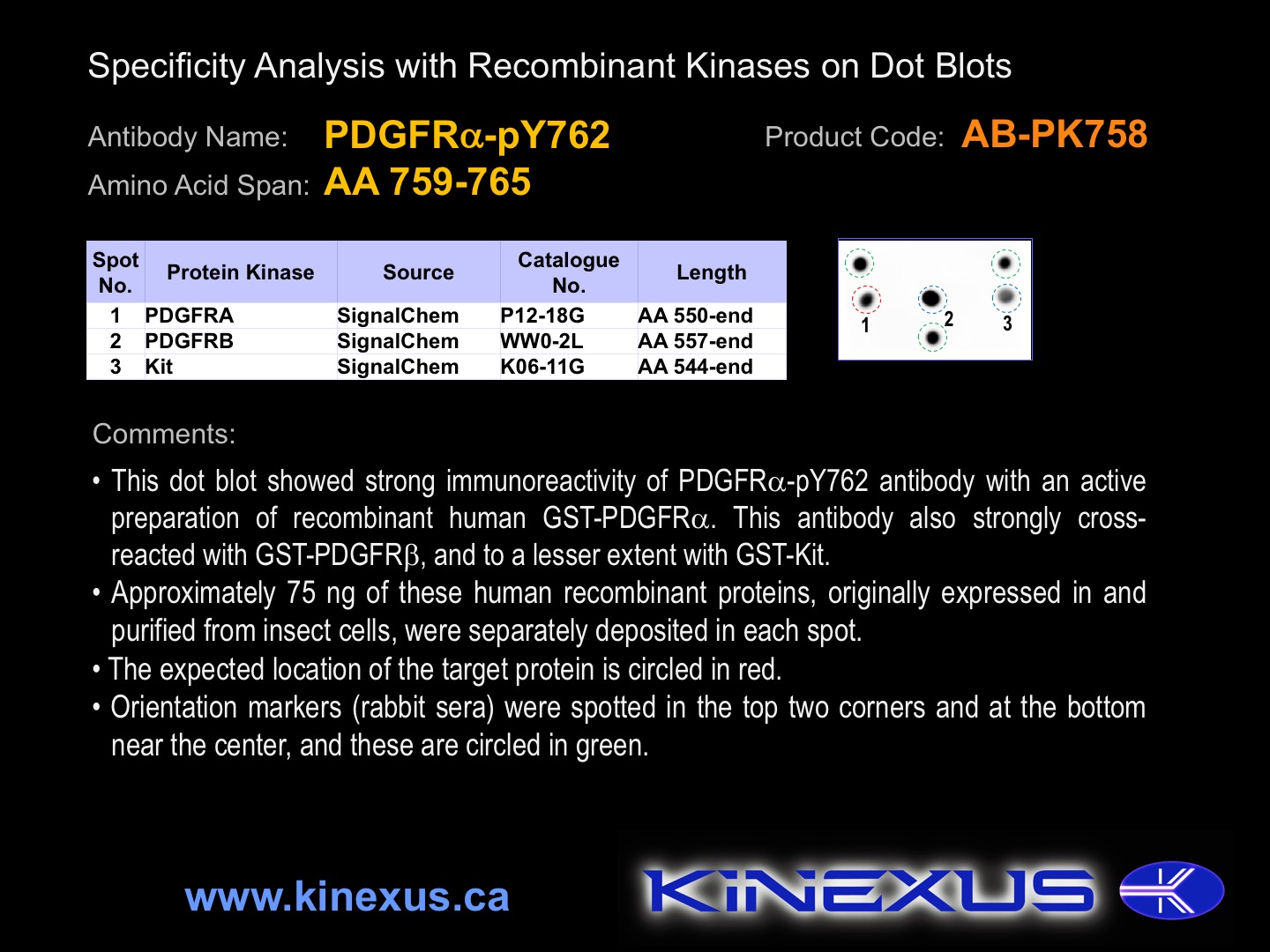 Figure 1. Dot blotting PDGFRa-pY762 antibody with recombinant purified proteins.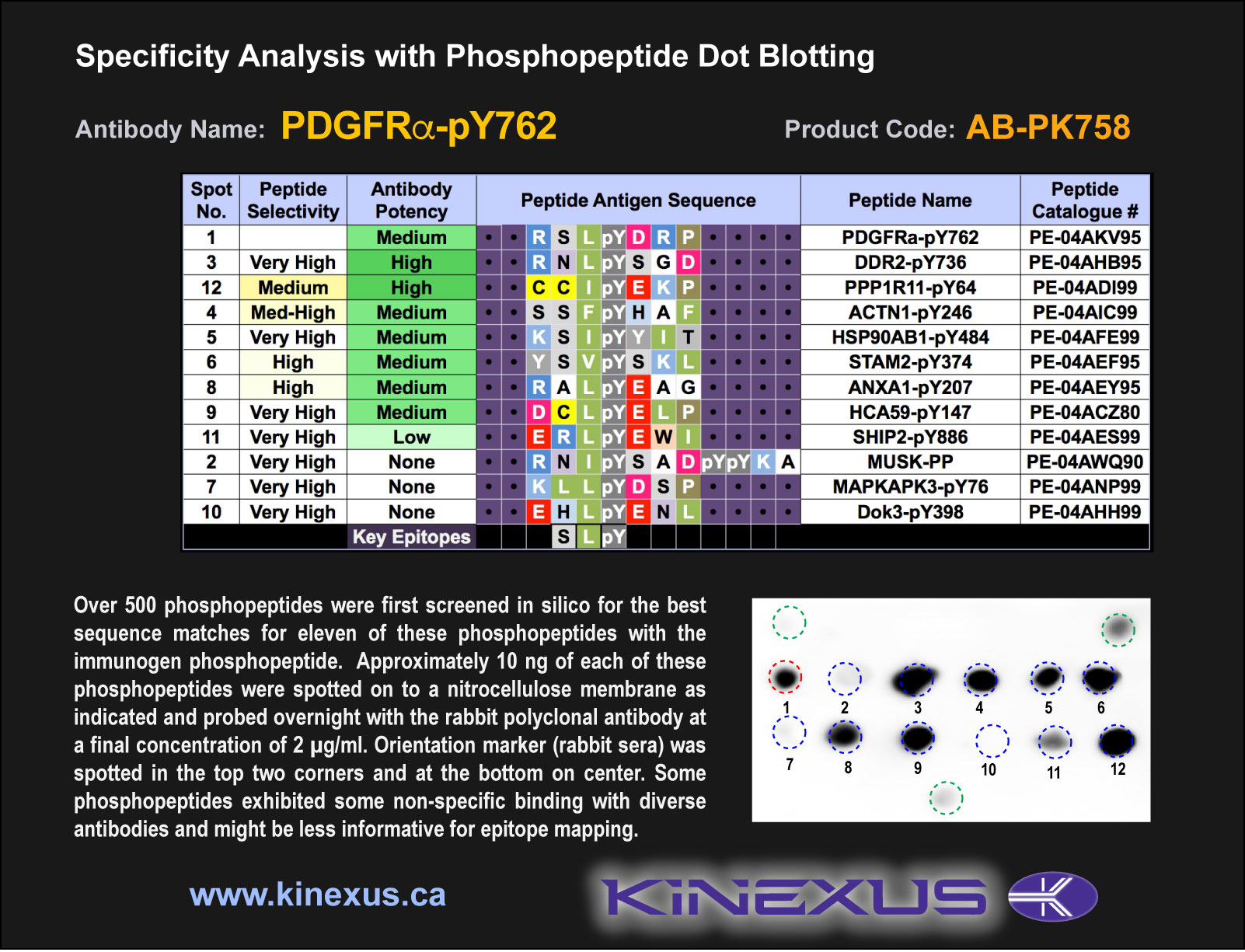 Figure 2. Epitope mapping of PDGFRa-pY762 antibody with similar phosphopeptides on dot blots.