Product Name:
LMR2-pS1450
| | | | | |
| --- | --- | --- | --- | --- |
| Size: | 25 µg |        | Price: | 89.00 |
| | |        | $US | |
Target Full Name:
Serine/threonine-protein kinase LMTK2
Target Alias:
LMTK2; 2900041G10Rik; AATYK2; BREK; CDK5,p35-regulated kinase; Cprk; KIAA1079; Kinase LMR2; Kinase phosphatase inhibitor 2
Product Type Specific:
Protein kinase phosphosite-specific antibody
Antibody Code:
PK684
Antibody Target Type:
Phosphosite-specific
Antibody Phosphosite:
S1450
Protein UniProt:
Q8IWU2
Protein SigNET:
Q8IWU2
Antibody Type:
Polyclonal
Antibody Host Species:
Rabbit
Antibody Immunogen Source:
Human LMR2 sequence peptide Cat. No.: PE-04ANL95
Antibody Immunogen Sequence:
KYF(pS)PPP(bA)C
Antibody Immunogen Description:
Corresponds to amino acid residues K1447 to P1453; Near the C-terminus of the protein kinase.
Production Method:
The immunizing peptide was produced by solid phase synthesis on a multipep peptide synthesizer and purified by reverse-phase hplc chromatography. Purity was assessed by analytical hplc and the amino acid sequence confirmed by mass spectrometry analysis. This peptide was coupled to KLH prior to immunization into rabbits. New Zealand White rabbits were subcutaneously injected with KLH-coupled immunizing peptide every 4 weeks for 4 months. The sera from these animals was applied onto an agarose column to which the immunogen peptide was thio-linked. Antibody was eluted from the column with 0.1 M glycine, pH 2.5. Subsequently, the antibody solution was neutralized to pH 7.0 with saturated Tris.This antibody was also subject to negative purification over phosphotyrosine-agarose.
Antibody Modification:
Unconjugated. Contact KInexus if you are interest in having the antibody biotinylated or coupled with fluorescent dyes.
Antibody Concentration:
1 mg/ml
Storage Buffer:
Phosphate buffered saline pH 7.4, 0.05% Thimerasol
Storage Conditions:
For long term storage, keep frozen at -40°C or lower. Stock solution can be kept at +4°C for more than 3 months. Avoid repeated freeze-thaw cycles.
Product Use:
Western blotting | Antibody microarray
Antibody Dilution Recommended:
2 µg/ml for immunoblotting
Antibody Potency:
Very strong immunoreactivity with immunogen peptide on dot blots.
Antibody Species Reactivity:
Human
Antibody Positive Control:
The observed molecular mass of the processed target protein on SDS-PAGE gels is reported to be around 150-175 kDa.
Antibody Specificity:
Very high
Antibody Cross Reactivity:
No significant cross-reactive proteins detected in HeLa and T98G cells, except for a weak cross-reactive protein of ~75 kDa in FBS-treated HeLa cells..
Related Product 1:
LMR2-pS1450 blocking peptide
Scientific Background:
LMR2 (LMTK2) is a protein-tyrosine kinase of the TK group and Lmr family. It is a receptor kinase that may have an essential role in spermatogenesis. In a large 2-stage genomewide association study of prostate cancer, SNP in intron of the LMR gene is associated susceptibility to prostate cancer. It has been shown to phosphorylate PPP1C, phosphorylase b and CFTR.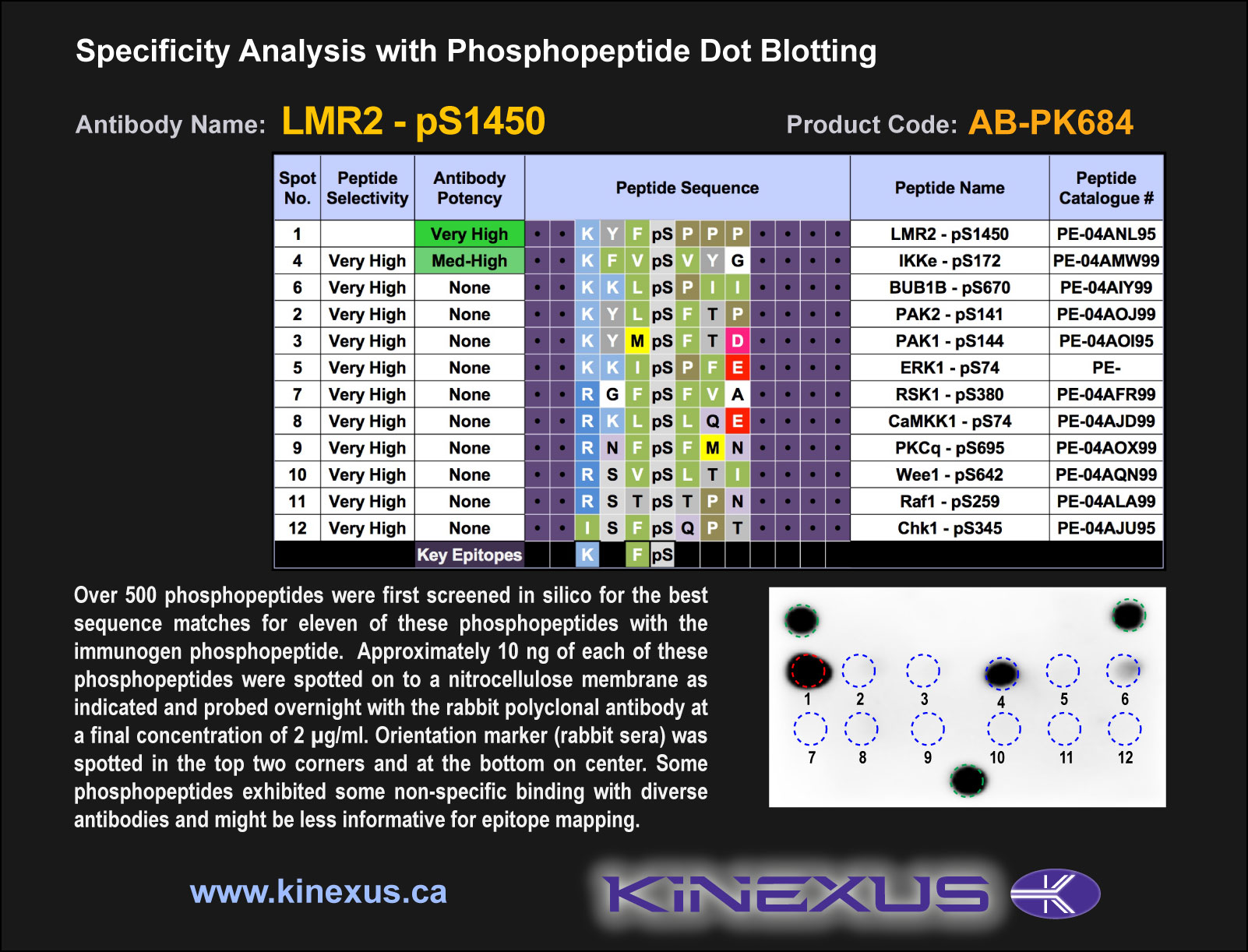 Figure 1. Epitope mapping of LMR2-pS1450 antibody with similar phosphopeptides on dot blots.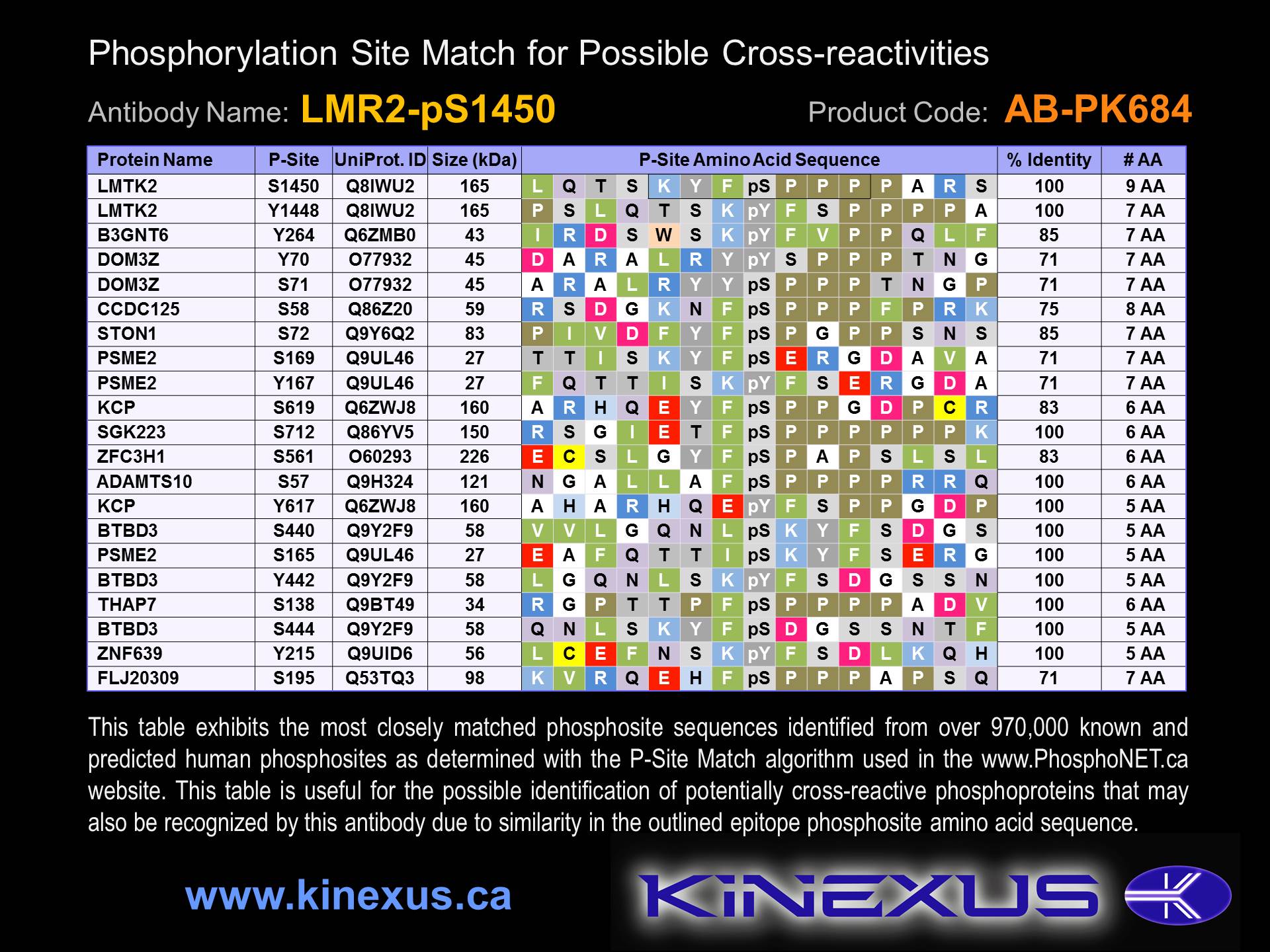 Figure 2. Identification of phosphosites related to LMR2-pS1450.