Product Name:
B-Raf-pS446+pS447
| | | | | |
| --- | --- | --- | --- | --- |
| Size: | 25 µg |        | Price: | 89.00 |
| | |        | $US | |
Target Full Name:
B-Raf proto-oncogene serine-threonine-protein kinase; RafB proto-oncogene-encoded protein-serine kinase
Target Alias:
B-RAF; B-RAF proto-oncogene serine/threonine-protein kinase; BRAF1; C-RMIL; Kinase B-Raf; P94; RAFB1; RMIL; RMIL serine/threonine-protein kinase; V-Raf murine sarcoma viral oncogene homolog B1; MGC126806; MGC138284; CCDS5863.1; ENSG00000157764
Product Type Specific:
Protein kinase phosphosite-specific antibody
Antibody Code:
PK534
Antibody Target Type:
Phosphosite-specific
Antibody Phosphosite:
S446+S447
Protein UniProt:
P15056
Protein SigNET:
P15056
Antibody Type:
Polyclonal
Antibody Host Species:
Rabbit
Antibody Immunogen Source:
Human Raf-B (BRaf) sequence peptide Cat. No.: PE-04AHO99
Antibody Immunogen Sequence:
RRD(pS)(pS)DDW(bA)C
Antibody Immunogen Description:
Corresponds to amino acid residues R443 to W450; Just before the kinase catalytic domain. This is the major in vivo phosphorylation sites in B-Raf.
Production Method:
The immunizing peptide was produced by solid phase synthesis on a multipep peptide synthesizer and purified by reverse-phase hplc chromatography. Purity was assessed by analytical hplc and the amino acid sequence confirmed by mass spectrometry analysis. This peptide was coupled to KLH prior to immunization into rabbits. New Zealand White rabbits were subcutaneously injected with KLH-coupled immunizing peptide every 4 weeks for 4 months. The sera from these animals was applied onto an agarose column to which the immunogen peptide was thio-linked. Antibody was eluted from the column with 0.1 M glycine, pH 2.5. Subsequently, the antibody solution was neutralized to pH 7.0 with saturated Tris.This antibody was also subject to negative purification over phosphotyrosine-agarose.
Antibody Modification:
Unconjugated. Contact KInexus if you are interest in having the antibody biotinylated or coupled with fluorescent dyes.
Antibody Concentration:
0.5 mg/ml
Storage Buffer:
Phosphate buffered saline pH 7.4, 0.05% Thimerasol
Storage Conditions:
For long term storage, keep frozen at -40°C or lower. Stock solution can be kept at +4°C for more than 3 months. Avoid repeated freeze-thaw cycles.
Product Use:
Western blotting | Antibody microarray
Antibody Dilution Recommended:
2 µg/ml for immunoblotting
Antibody Potency:
Very strong immunoreactivity with immunogen peptide on dot blots.
Antibody Species Reactivity:
Human
Antibody Positive Control:
The observed molecular mass of the processed target protein on SDS-PAGE gels is reported to be around 87-97 kDa.
Scientific Background:
B-Raf (RAFB1) is a protein-serine/threonine kinase of the TKL group and RAF family. It is a cytoplasmic kinase that participates in the RAS>RAF>MEK>ERK pathways, which is involved in the transduction of mitogenic signals from the cell membrane to the nucleus and promotion of cell division, differentiation, and cytokine secretion. Ras isoforms are inactive when bound to GDP, but when they are bound to GTP they become active and promote stimulation of B-Raf. Phosphorylation of S446 increases phosphotransferase activity and induces interaction with H-Ras-1. Phosphorylation of S579, T599, and S602 increases B-Raf phosphotransferase activity. Phosphorylation of S729 increases phosphotransferase activity and induces interaction with 14-3-3 beta. Phosphorylation of S365, S429, and T440 inhibits phosphotransferase activity. Phosphorylation of T753 inhibits interaction with Raf1. B-Raf is expressed in most tissues with high expression in neuronal tissue. The transcription of several genes have been found to be increased by this pathway, including cyclins D1, D2 and D3, VEGF, c-myc, b3-integrin and mdm2. B-RAF is a known oncoprotein (OP). Cancer-related mutations in human tumours point to a gain of function of the protein kinase. Gain-of-function mutations in B-Raf are estimated to be present in ~15-19% of all human cancers, and 66% of malignant melanomas have been identified with a B-Raf somatic missense mutation. A single point mutation (V600E), located in the kinase catalytic domain in the activation loop between Subdomains VII and VIII. It has been reported to account for ~80% of the B-Raf mutations in human cancers. Mutated B-Raf proteins display constitutive elevated levels of phosphotransferase activity, resulting in the aberrant promotion of cell division, differentiation, and cytokine secretion.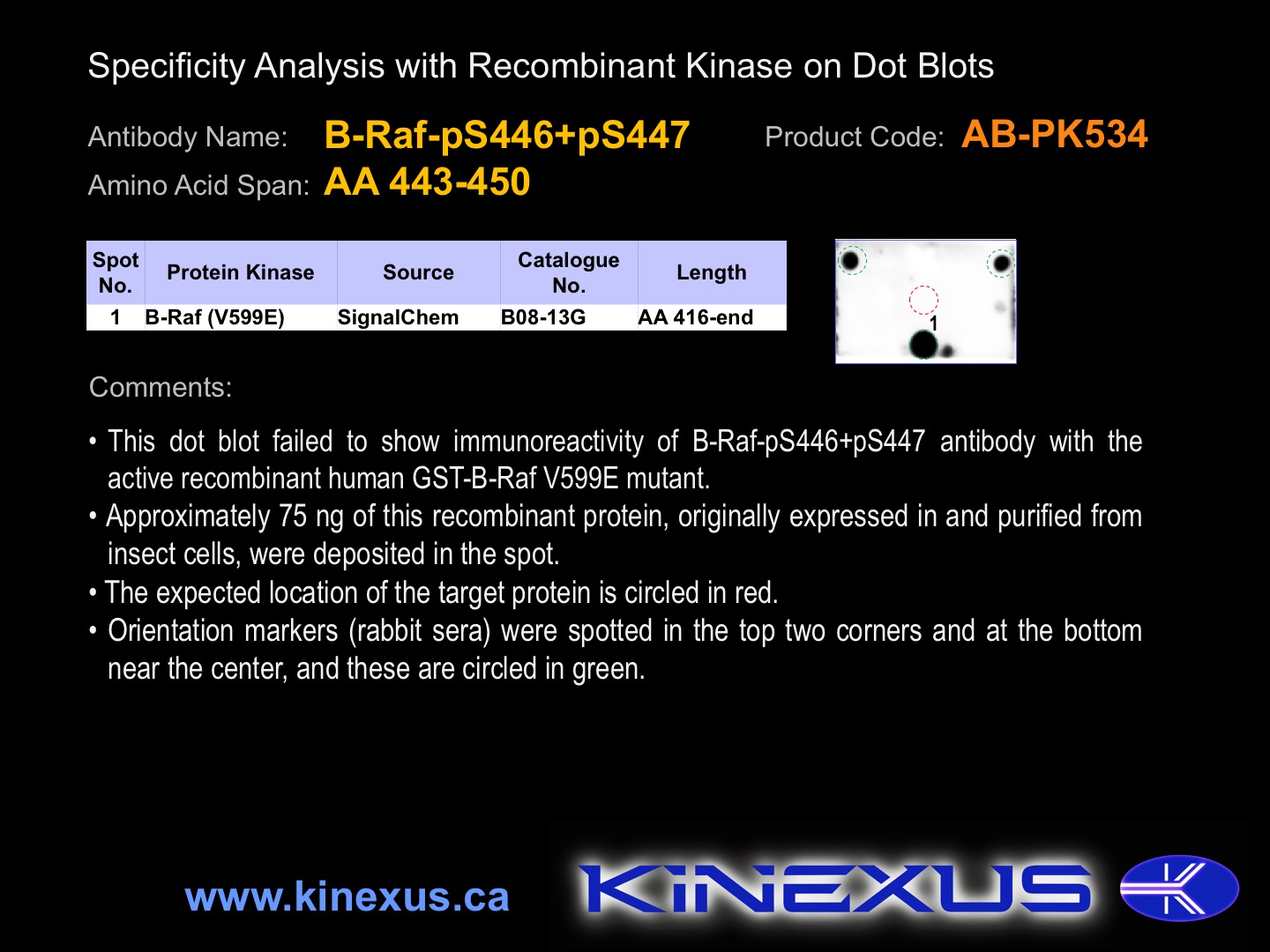 Figure 1. Dot blotting B-Raf-pS446+pS447 antibody with recombinant purified proteins.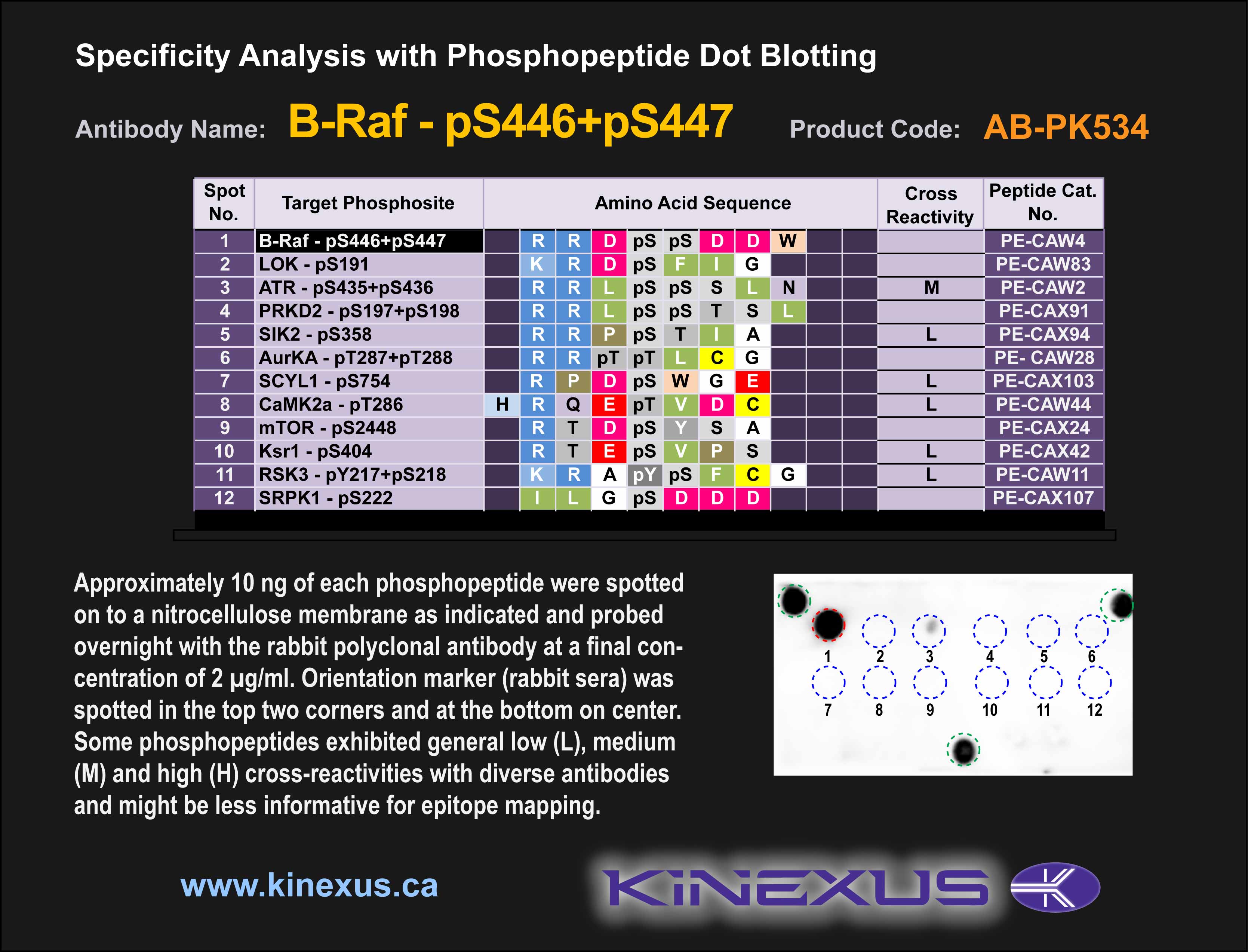 Figure 2. Phosphopeptide dot blot epitope mapping with B-Raf-pS446+pS447 antibody.